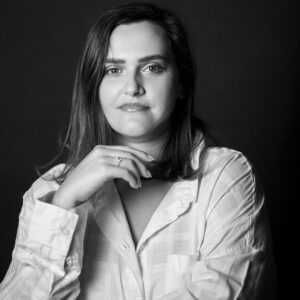 My name is Vira Khrupa, I'm a fashion, beauty, and portrait, professional photographer. Since I can remember, I was always attracted to taking pictures, composing different angles, and sculpting them with light. At the age of 16 began my infinite romance with still photography and the frozen framed moments. The love and the will to transfer the intensity of a story through photography grew bigger till this day, and this love doesn't stop till today and it became part of my personality.
 In my professional path during the years, I work on independent editorial productions, some of which are published in fashion magazines and e-blogs, and on different websites. I photograph models, artists, singers, and actors for PR purposes, personal and professional portfolios, publishing purposes, and self-confidence increment. I worked for a long time with leading fashion bloggers that brought me to shootings overseas at fashion capitals such as incredible Paris and magnificent New York. Moreover, one of my favorite types of work is working with local Israeli designers and international ones as well, shooting their collections and image productions. As well I shoot beauty for make-up artists and hair designers and makeup schools and image portraits with a fashionable angle to highlight the beauty of the people that I'm photographing.
   Insepperating Stepstone in my professional path was the work that I've done with high-end fashion and beauty photographers in Israel for a while as the main assistant photographer. This work taught me how to manage and produce different fashion shootings and how to manage challenging times and difficulties of all kinds of productions with numerous members of participants. The most crucial point of this experience that I got from my assisting time is to understand which path I would like to go through as a photographer. My approach to photography first of all is creating out of love and passion for the field. I provide high-quality service in fashion shooting, beauty, and portraits with a fashionable angle.
    In the shooting, I do this with precise attention to the details and flattering outcomes for each customer. I pay attention to the smallest details. The general picture altogether becomes a sequence of wholesome shooting outcomes. I invite you to browse through my galleries and be impressed by the work I've done so far and contacted me for a booking or consultation.
Contact me